Motorola's QWERTY keyboard equipped Q Global smartphone for AT&T adds the power of the Windows Mobile 6 operating system, which provides push email for immediate send and receive on Corporate Microsoft Exchange servers as well as editing of Microsoft Office documents. In addition to its quad-band GSM/GPRS/EDGE connectivity, it also runs on AT&T's 3G HSDPA/UMTS network for fast Internet browsing, high-speed music downloads, video streaming/casting. And you'll be able to get to where you're going fast with the integrated GPS receiver and support for TeleNav GPS Navigator software. The Q Global also features a large 2.4-inch LCD, 2-megapixel camera/camcorder, Bluetooth 2.0 connectivity with music streaming, 256 MB of in-phone memory, MicroSD memory card expansion, digital audio player, and dual stereo speakers.
AT&T Service
The AT&T Tilt can handle high-speed data connectivity via AT&T's 3G mobile broadband data network, which is available in most major metropolitan areas. The AT&T 3G network uses the UMTS 850/1900/2100 network (also known as WCDMA), making it possible to enjoy a variety of feature-rich wireless multimedia services with speeds up to 3.6 Mbps. It also gives AT&T the advantage of offering simultaneous voice and data services. You'll also enjoy 3G broadband speed connectivity across the globe with tri-band UMTS/HSDPA capabilities, which allows the Tilt to operate in Japan and Korea, in addition to the more than 135 countries in which AT&T offers international data roaming.
In areas where the 3G network is not available, you'll continue to receive service on the AT&T EDGE network, which offers availability in more than 13,000 US cities and along some 40,000 miles of major highways. Providing average data speeds between 75-135Kbps, it's fast enough to support a wide range of advanced data services, including video and music clips, full picture and video messaging, high-speed color Internet access, and email on the go.
With 3G connectivity, you'll be able to access AT&T's Cellular Video (CV) service and the Internet while on the go. Cellular Video features content from CNN, The Weather Channel, iFilm, Comedy Central and exclusive premium content from HBO and much more. And you get access to AT&T Mobile Music, which enables you to buy tracks while on the, access the Napster subscription music service, stream music video, discover what's playing with Music ID song-recognition software, and find out what's hot with The Buzz music news portal. (A MEdia Max subscription bundle is recommended for accessing AT&T's Internet, video, and music services.)
The phone has a built-in web browser for MEdia Net downloads and mobile web browsing. AT&T's MEdia Net service enables you to receive and send emails, read news headlines, get weather updates, download games and ringtones, and more.
You can also take advantage of the TeleNav GPS Navigator software, the full-featured premium navigation application that includes audible turn-by-turn directions, real-time traffic updates and re-routing options, and 3D moving maps. It comes as a 30-day trial version, and it can be downloaded via the TeleNav web site or via virtual pre-load icon (VPL) after activation.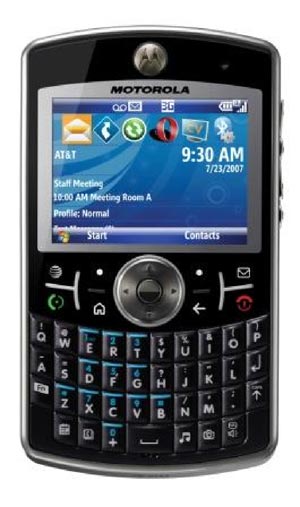 Phone Features
Featuring an iconic form factor, the svelte and sleek design of the Motorola Q Global measures just 0.46 inches thin, and it's complemented by with high-end finishes and soft touch materials. A bright 2.4-inch display (320 x 240 pixels, 65K colors) with smooth lighting transitions thanks to its adaptive display technology enables you to enjoy reading in environments where lighting is poor. The optimized QWERTY keyboard makes quick work of typing emails, SMS messages, notes, presentations and more.
It features a full HTML browser that takes advantage of high-speed wireless data connections for faster, bigger and richer web surfing experience. It offers built-in e-mail functionality for corporate Microsoft Exchange accounts as well as standard POP3/IMAP4 accounts (including GMail and Yahoo!). The included Outlook Mobile software offers up-to-date e-mail, calendar and contact information. And the new Windows Mobile 6 operating system enables you to view and edit Word and Excel documents as well as provides instant message capabilities via Windows Live Messenger. (See more details about Windows Mobile 6 below.)
Handsfree communication is easy thanks to the integrated speakerphone with dual stereo speakers--perfect for conference calling from the office or home. This phone provides Bluetooth wireless connectivity, and includes profiles for communication headset, handsfree car kits, and audio/video remote control. With the A2DP Bluetooth profile, you can stream your music to a pair of compatible Bluetooth stereo headphones. You can connect your laptop (either via Bluetooth or wired USB) and enjoy dial-up networking--surf the Internet, send email, and access files from a server.
The 2-megapixel camera includes an 8x digital zoom and LED flash, with resolution options ranging from 320 x 240 to 1600 x 1200 pixels. It can capture video clips as long as your memory holds out. This phone is also compatible with streaming video playback (RTSP, HTTP protocols) as well as WMV, MPEG4, Real video, and H263/H264 video files. The digital audio player is compatible with MP3, AAC, WMA, and Real audio file formats. Quickly drag, drop and sync music from more than 200 online music stores using the ease and simplicity of Windows Media Player.
In addition to the included Windows Mobile 6 software, you can also download My Q Pak software bundles exclusively available from AT&T and Motorola (good for 1 year of usage). The My Q Paks are available in three flavors, based on how you'll use the Q Global the most. The Road Warrior Pak includes WorldMate for travel management and Zagat restaurant reviews. The CEO of Household Pak includes Better Homes recipes and SplashID secure password manager. And the Fun Seeker Pak includes Bejeweled and MyStrands social music networking software.
Other features include:
256 MB of on-board memory (128 MB of RAM), expandable via MicroSD memory cards
Use on-board tools to customize ringtones, my home-screen and my wallpaper
Compatible with instant messaging clients (Yahoo!, ICQ, AIM), MMS and SMS
Flight mode allows you to safely use the non-wireless functions of this phone (such as music, games, or organizer functions) on an airplane during flight
Polyphonic (64-chord) and MP3 ringtones
VPN capability and anti-virus protection
Vital Statistics
The Motorola Q Global weighs 4.73 ounces and measures 4.65 x 2.64 x 0.46 inches. It runs on the 850/900/1800/1900 GSM/GPRS/EDGE frequencies as well as 850/1900 WCDMA (3G) frequencies.
What's in the Box
{{Contents}}