Ruggedized to military standards, the super-tough Casio G'zOne Type S clamshell phone is able to withstand the penetrating elements of rain, humidity and even submersion in water. It's also shock resistant and its dust-resistant keyboard will stay fully operational even in swirling sandstorms (see more about testing standards below). This dual-band phone runs on Verizon's 800/1900 MHz CDMA network, which offers access to Verizon's Get It Now virtual store (for downloads of games, ringtones, wallpapers and more) and VZ Navigator for audible maps, turn-by-turn directions and location information. Other features include a VGA camera with flash, video capture capability, Bluetoooth connectivity for communication headsets and data transfer, speakerphone, and voice activated dialing.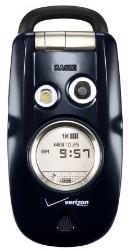 Built tough, the G'zOne Type S has a clamshell design that's set within a protective bed of silicon rubber and surrounded on the outside by a sturdy frame of reinforced plastic coated with polyurethane. The G'zOne Type S is also one of the first cell phones to be able to withstand blowing rain, high humidity, and immersion underwater for 30 minutes at a depth of 1 meter (with ports closed) thanks to the handset's construction with unique screws, water-resistant filters and O-ring combinations.
Underneath the clamshell, the G'zOne Type S has a 1.8-inch color TFT screen (176 x 220-pixel resolution) with support for 65K colors. The outside features a supplementary monochrome LCD screen that can display incoming call information, battery life, signal strength, current date and time, stopwatch functions, and more. The protected camera lens and LED flash (which also doubles as a flashlight) reside on the front cover, just above the external display, while up/down volume controls and a camera control button are on the right side of the phone. On the back, the battery cover has a locking mechanism that can be secured before taking the phone into watery conditions.
The built in memory provides room for up to 500 contact entries in the phone's address book. A voice dialing feature makes calling friends and associates as easy as saying their names, while the built-in speakerphone allows you to talk handsfree. The phone also comes with built-in polyphonic ringtones and a vibrating alert, and more ringtones can be downloaded via Verizon's Get It Now service. Ringtones can be assigned to specific callers so you don't have to look at the phone to know who's calling, or you can match pictures with callers to identify them. It also ships with a number of handy tools including a calendar, notepad, alarm clock, world clock, calculator, countdown timer, and stopwatch.

For snapping photos on the go, the G'zOne Type S is equipped with a VGA camera that includes a 2x digital zoom and integrated flash. You can shoot images in one of three resolutions (640 x 480, 320 x 240, and 120 x 160 pixels), and the camera lets you control settings for brightness, white balance, and three color effects. It provides a self-timer of up to 10 seconds for self-portraits, and you can turn the shutter sound on or off. Additionally, you can capture video clips in QCIF resolution (176 x 144 pixels) up to 15 seconds in length, and you can use the flash as a recording light.
This phone provides Bluetooth wireless connectivity, and includes profiles for communication headset, and handsfree car kits. With the A2DP Bluetooth profile, you can stream your music to a pair of compatible Bluetooth stereo headphones. Additionally, you can connect your laptop and enjoy dial-up networking (DUN)--surf the Internet, send email, and access files from a server--using using the G'zOne Type S as your modem.
For messaging, the G'zOne Type S provides support for text messaging (SMS), enhanced messaging service (EMS) for sending audio files, multimedia messaging (MMS) for sending pictures and video, and IM chatting. The phone is also Mobile Web 2.0 capable, which offers customizable, enhanced wireless access to the latest in news, sports, weather and more (subscription charges apply).
The G'zOne Type S comes standard with a location-enabled e911 feature for emergency situations. Activate Verizon's monthly VZ Navigator service and you'll have all the benefits of advanced GPS technology at your fingertips: heads-up alerts, voice-prompted rutn-by-turn directions, local search of nearly 14 million points of interest in the US, and detailed color maps.
Military Standards Testing
The GÕzOne Type-S passed all of the following tests, performed in accordance with Military Standards 810F, with all ports (battery, headset and charging) on the phone closed:
The Water Resistance test was performed in accordance with Method 506.4, Procedure I. The GÕzOne Type-S was subjected to this test with the handset open and closed, but with ports closed for 30 minutes on the front of the unit and then 30 minutes on the back of the unit. The test was designed to simulate rainfall of 2 inches per hour with a 40 MPH wind.
Result: The GÕzOne Type-S showed no visible evidence of damage or deterioration caused by testing.
The Humidity test was performed in accordance with Method 507.4. The GÕzOne Type-S tested for operation after the conclusion of the tenth cycle. Each cycle was 24 hours and the entire test was performed over ten days. The temperature was cycled between 86 and 140°F with the relative humidity at 95 percent constant.
Result: The GÕzOne Type-S showed no visible evidence of damage or deterioration caused by testing.

The Drop test was performed in accordance with Method 516.5, Procedure IV. The GÕzOne Type-S was sequentially dropped in non-operating mode, onto each face, edge and corner for a total of 26 drops from a height of 1.50 meters (4.9 feet). The drop surface was defined as two-inch-thick plywood over a steel plate over concrete.
Result: The GÕzOne Type-S powered on.
The Dust Resistance test was performed in accordance with Method 510.4, Procedure I. A temperature of 95°F was used for this test. Silica flour as defined by the test standard was used. Devices are given a passing grade when moving parts are not bound or blocked and if the unit powers on.
Result: The GÕzOne Type-S showed no visible evidence of damage or deterioration.
The Immersion test was conducted in accordance with Method 512.4, Procedure 1, with the handset immersed in water for a period of 30 minutes at a depth of 1 meter with ports closed.
Result: The GÕzOne successfully powered on with no visible evidence of damage or deterioration.
Vital Statistics
The Casio G'zOne Type S weighs 5.1 ounces and measures 3.8 x 2 x 1.1 inches. It runs on the 850/1900 CDMA frequencies.
What's in the Box
{{contents}}