The CLIQ 3G-enabled touchscreen phone for T-Mobile, is Motorola's first Android-powered device, and the first to feature the innovative MOTOBLUR overlay to the Android OS, which manages and integrates email and social networking activity including Facebook, Twitter, and MySpace. In addition to a brightly colorful 3.5-inch touchscreen, the Motorola CLIQ also offers a side sliding full QWERTY keyboard for quick typing of tweets, status updates, and email.
With integrated Google technology, the Motorola CLIQ brings one-touch access to the popular Google mobile services millions of people use every day, including Google Search by voice, Google Maps with Street View, YouTube and Picasa. CLIQ also provides easy access to both personal and corporate email, calendars, and contacts supported by Exchange Server and Gmail.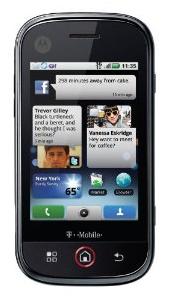 Enabled for T-Mobile's high-speed 3G network, the CLIQ offers fast data delivery and an enhanced Web-browsing experience that lets you connect quickly to social networking sites. The CLIQ offers GPS location services for turn-by-turn directions using Google Maps and Wi-Fi networking (802.11b/g) for accessing home and business networks as well as hotspots while on the go. Other features include a 5-megapixel camera for still photos and video capture, Bluetooth for both hands-free communication and stereo music streaming, a digital audio player.
Key Features
Powered by the Android operating system with deep integration of Google services and access to thousands of apps to customize your phone via the Android Market.
Innovative widget-based MOTOBLUR overlay to Android automatically delivers Facebook, Twitter, MySpace, Gmail, and work and personal email updates to the home screen in easy-to-view streams so there is no need to open and close different mobile applications.
Update Facebook, MySpace and Twitter at once instead of opening individual apps with MOTOBLUR as well as upload your photos to Facebook, MySpace, Picasa and Photobucket.
MOTOBLUR continuously displays your friends' latest profile pics as part of your texts, calls, emails and address book
View your friends your way: MOTOBLUR lets you view friends from A to Z, by contact history or in groups you make yourself.
Customize your home screen with your favorite widgets and short cuts
Your information is continuously updated and backed up into a secure environment, so you're connected and protected even if you lose your phone.
Fast 3G connectivity via T-Mobile's HSDPA/UMTS network. (1700/2100 MHz bands, UMTS/HSDPA; see more about T-Mobile's 3G service below)
Quad-band GSM phone for good global voice connectivity. (850/900/1800/1900 MHz bands)
myFaves capable
Built-in GPS with turn-by-turn directions provided by Google Maps and other third-party apps (for real-time directions). With Google Maps, you can instantly view maps and satellite imagery, as well as find local business. And Google Maps Street View enables you to explore cities at street-level virtually while on the go. If your phone's missing in action, log into My MOTOBLUR to track it down with GPS.
3.1-inch touchscreen display (320 x 480 pixels, 262K color depth)
Full slide-out QWERTY keyboard with familiar layout lets you type messages easily without scrolling for the letter you want.
5-megapixel autofocus camera/camcorder for sharing images online and creating high-quality prints. Features include digital zoom, multiple white balance settings and color effects, three quality choices, and editing options for both still photos and video.
Wi-Fi networking (802.11b/g) for accessing home and corporate networks as well as hotspots while on the go.
Bluetooth connectivity (version 2.0) includes profiles for communication headset, hands-free car kits, and the A2DP Bluetooth profile--enabling you to wirelessly stream your music to a pair of compatible Bluetooth stereo headphones or speaker dock.
Memory expansion via microSD card slot with support for optional cards up to 32 GB
Multi-format digital audio player with dedicated Amazon MP3 Store app for over-the-air downloads.
YouTube app for streaming video over 3G and Wi-Fi connections.
Real HTML Web browsing provides more pages and better Web content delivered efficiently to your phone.
Visual Voicemail allows you to listen to your voicemail messages in any order, respond in one click and easily manage your inbox without ever dialing in to the network.
Voice-activated dialing lets you call someone with simple voice commands when your hands are busy
Airplane mode allows you to listen to music while the cellular connectivity is turned off
Speakerphone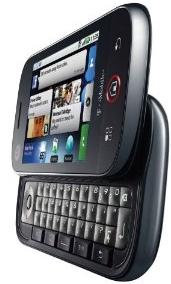 Vital Statistics
The Motorola CLIQ weighs 4.9 ounces and measures 4.5 x 2.3 x 0.61 inches. It runs on the 850/900/1800/1900 MHz GSM/GPRS/EDGE frequencies, as well as T-Mobile's 3G network (1700/2100 MHz).
T-Mobile Services
High-speed data connectivity via T-Mobile's 3G network: In addition to its quad-band GSM connectivity, this phone is also compatible with T-Mobile's UMTS/HSDPA 3G network, which operates on the 1700/2100 MHz AWS spectrum. This phone is designed to automatically connect to the best available network (3G or GSM/GPRS/EDGE) to provide faster data speeds when accessing the Web.

In areas where the 3G network is not available, you'll continue to receive service on the via T-Mobile's EDGE network (which stands for "Enhanced Data Rates for Global Evolution"). This high-speed, mobile data and Internet access technology is fast enough to support a wide range of advanced data services (with average data speeds between 75-135Kbps), including full picture and video messaging, high-speed color Internet access, and email on the go.

While this phone is optimized for use with T-Mobile's high-speed 3G network, many of its functions will also work well on the moderate-speed EDGE network. If you plan to access the Internet extensively on your phone, 3G network coverage may serve you best.

Activities that work well on EDGE or 3G networks:

Email, instant messaging, and texting
Downloading ringtones, CallerTunes, wallpaper, light data files
Sending photographs via email or picture messaging

Activities that work best on a 3G network:

Viewing content-heavy websites (lots of images or videos playing)
Viewing YouTube and other video files (they will play on EDGE, but require loading time)
Uploading large files (photos, videos, presentations) to sharing websites
Downloading large files from an email or a website

T-Mobile's 3G network is currently available in 222 cities nationwide and covers more than 160 million people. By the end of 2009, T-Mobile USA expects its 3G network to be available to approximately 200 million people across the U.S.

myFaves Capable: This phone is compatible with T-Mobile's myFaves service, which allows you to call up to five of your most common contacts--on any network, even landlines--without using any of your minutes.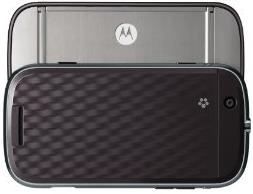 Android Power
The Motorola CLIQ runs the Android operating system, which provides easy access to a wide assortment of messaging tools and Google apps. With Android, you're able to richly personalize the entire theme of the Motorola CLIQ with new widgets, icons and wallpapers--which can be added directly on the home screen--in order to truly make it your own.
Developed by Motorola, MOTOBLUR is an innovative solution that manages and integrates communications--from work email to social networking activity--on your CLIQ. Updates to contacts, posts, messages, photos and more are streamed together and synced from sources including Facebook, Twitter, MySpace, Gmail, and work and personal email. MOTOBLUR automatically delivers these updates to the home screen in easy-to-view streams so there is no need to open and close different mobile applications to keep up with the latest content.
CLIQ also features multitasking capabilities and one-touch access to the Google mobile services millions use every day, including Google Search by voice, Google Maps with Street View, YouTube and Picasa. Easy access to both personal and corporate email, calendars, and contacts is supported by Exchange Server and Gmail. email and contacts are also supported by Yahoo!, Windows Live Hotmail, and other POP3 and IMAP email services. It also combines instant messaging support for Google Talk, as well as AOL, Yahoo! Messenger and Windows Live Messenger.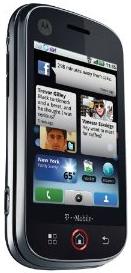 Additionally, the Android Market hosts a wide variety of unique applications, and with the Motorola CLIQ's one-click access to it you can find and download a wide range of innovative software applications--from games to social networking and on-the-go shopping--to personalize your phone. Here's a sampling of just some of the available applications:
Sherpa, created by Geodelic, learns a person's likes and dislikes through behavior and user feedback, prioritizing recommended retailers, restaurants and attractions. Sherpa features a learning machine that automatically customizes itself to the user's preferences.
imeem Mobile streams music customized to your tastes, recommending new songs and artists based on which songs you identify as your favorites.
WorldTour puts live webcams from around the world onto your home screen.
Phonebook offers an upgraded, more personalized phonebook for Android.
FreshFace is a theme engine to further customize your phone.
Movies by Flixster takes the aspect of movie reviews to the next level. Through integration with Facebook, you can find friends who also want to see that movie or read reviews from friends who have already seen it.
The Motorola CLIQ is pre-loaded with the Android 1.5 (Cupcake) operating system update, which includes the following improvements:
Easy upload of photos to Picasa and videos to YouTube
Spanish language support
Edit multiple messages in Gmail
Faster My Location acquisition in Google Maps
Faster web browsing with smoother page scrolling
Improved camera with faster start-up and image capture
In-call keypad timeout to eliminate face dialing
What's in the Box
{{contents}}