A powerful entertainment and on-the-go social networking device, the Nokia X6 mobile phone features a lush 3.2-inch widescreen capacitive touch display, 5-megapixel camera with Carl Zeiss optics and dual LED flash, integrated GPS with free Ovi Maps Navigation, and 16 GB of internal memory. You'll have tons of space to save your pictures, music, video clips and data, and you can always grab more games and applications downloaded from the Ovi Store.
The home screen features a dedicated Media Bar touch key for quick access to your stored music and video, online sharing sites, and Web browser. It also includes a customizable Contacts Bar where you can easily make calls and manage messages as well as follow up to 20 Web feeds from online friends--from social networks, personal blogs, Twitter feeds and more. You'll be able to quickly send text messages and e-mail as well as update your own status thanks to the onscreen QWERTY keyboard, which automatically changes orientation depending on how the phone is rotated.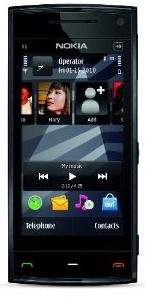 Running the latest version of the Symbian operating system, the Nokia X6 includes pre-loaded games (including Spore by EA and DJ Mix Tour by Gameloft). Other features include Wi-Fi networking, Bluetooth connectivity for hands-free devices and stereo music streaming, a full HTML Web browser, access to personal and corporate e-mail (with ability to view attachments), stereo FM radio.
Free Ovi Maps Navigation
With its integrated GPS sensor and the newest edition of Ovi Maps (full version pre-loaded on this phone or available as a free download from nokia.com/maps), you'll enjoy all essential car and pedestrian navigation features as well as the ability to use navigation features even when not connected to a cellular network--great for extending battery life and saving on international roaming charges. Features include turn-by-turn voice guidance, over 6,000 3D landmarks in over 200 cities for quick recognition of the landscape around you, access to Lonely Planet travel guides, and detailed maps for over 180 countries. You'll also be able to keep moving in the right direction with the integrated electronic compass.
Unlocked Phone
This unlocked cell phone can be used with a GSM network service provider and it provides quad-band connectivity (850/900/1800/1900 MHz). It does not come with a SIM card, and it requires that you provide a SIM card for usage with your selected service provider.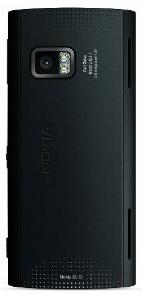 Additionally, this phone can be paired with 850/1900 MHz UMTS/HSDPA 3G networks in the United States (as well as 2100 MHz 3G networks found around the world, including in Europe and Asia). When paired with a compatible 3G network, you'll enjoy a high-speed connection offering a variety of feature-rich wireless services--from data connectivity to your office to multimedia streaming, and take advantage of simultaneous voice and data services. In areas not served by a 3G network, you'll continue to receive data service via EDGE network (depending on network compatibility).
Note that the downloading of maps, games, music and videos and uploading of images and videos involves transferring large amounts of data. Your service provider may charge for the data transmission, and the availability of particular services and features may vary by carrier.
Key Features
Fast 3G connectivity with broadband-like speeds via 850/1900/2100 MHz UMTS/HSDPA.
Integrated assisted GPS (A-GPS) receiver with free Ovi Maps enables you to find your route quickly and easily, whether walking or driving. Use the Walk pedestrian navigation to find your way, or the voice-guided Drive navigation to find the best route.
Gorgeously colorful 3.2-inch touch-enabled display with 640 x 360-pixel resolution and support for up to 16.7 million colors.
16 GB internal memory
5-megapixel camera with Carl Zeiss optics with up to 4x digital zoom, dual LED flash, center-weighted auto-focus, multiple scene modes, direct printing to compatible printers, and more.
Capture widescreen videos (640 x 352; VGA) at 30 frames per second (fps). Other features include 4x digital zoom, MPEG4/3GPP formats, up to a 90-minute clip length, video stabilization, scene settings, and video light.
Upload your photos and videos to Ovi Share and share them online with friends and family.
TV output for sharing videos on larger screens
Secondary camera on front for video calls (QCIF resolution) for use on compatible networks.
Digital audio player compatible with MP3, WMA, AAC, eAAC, and eAAC+ formats.
Video playback formats include MPEG4-SP playback 30 fps VGA, MPEG4-AVC playback 30 fps QVGA, WMV9 playback 30 fps QVGA, and MPEG4-SP playback 30 fps nHD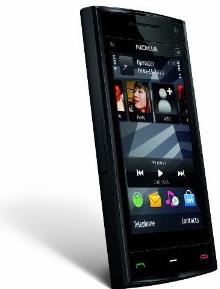 Stereo FM radio with RDS capabilities
Wi-Fi networking (802.11b/g) for accessing home and corporate networks as well as hotspots while on the go.
Bluetooth connectivity (version 2.0) includes profiles for communication headset, hands-free car kits, and the A2DP Bluetooth profile--enabling you to wirelessly stream your music to a pair of compatible Bluetooth stereo headphones or speaker dock. If your laptop is Bluetooth enabled, you can connect wirelessly and enjoy dial-up networking (DUN profile); note that additional charges may be applicable.
SMS and MMS messaging
Supports e-mail accounts from more than a thousand ISPs (SMTP, IMAP4, POP3), as well as Gmail, Yahoo! mail and Hotmail. People who use Microsoft Exchange at work can access their e-mail using the Mail for Exchange mobile e-mail client, which comes pre-loaded (an Exchange e-mail account is required and your Exchange Administrator must have enabled your account for synchronization).
Full HTML Web browser (OSS) with support for Flash Lite 3.0
Organizer tools including calendar, to-do list, notes, clock, converter, voice recorder
Airplane mode allows you to listen to music while the cellular connectivity is turned off
S60 5th Edition, Symbian OS version 9.4
Vital Statistics
The Nokia X6 weighs 4.3 ounces and measures 4.37 x 2 x 0.54 inches. It runs on the 850/900/1800/1900 MHz GSM/GPRS/EDGE frequencies, plus 850/900/1900/2100 3G networks (HSDPA).
What's in the Box
{{contents}}