Stay in touch with all your contacts and keep your busy life organized with the Motorola Renew W233, and pay the way you want with prepaid and postpaid calling plans from T-Mobile Pay As You Go. You'll get all the communication features you expect from Motorola while reducing your carbon footprint. Not only is the plastic housing of Renew made from plastics comprised of recycled water bottles and 100 percent recyclable, but it is also the world's first carbon neutral phone.
A great phone for those just looking for the basics in mobile communication, the Renew will keep you connected to your closest friends and family members with T-Mobiles myFaves (offering unlimited calls to your five most-used phone numbers) as well as via SMS text and MMS multimedia messaging. The phone also features Motorola's CrystalTalk technology to helps reduce background noise, a speakerphone for handsfree conversations, digital audio player, MicroSD memory expansion (to 2 GB), and up to 9 hours of talk time
T-Mobile Pay As You Go Prepaid Service
T-Mobile prepaid plans give you wireless access with less commitment, so you can pay--and talk--as you go. With no annual contract, no credit check, and no monthly bill, prepaid plans are a simple, direct way to go mobile. There are many ways to conveniently refill your T-Mobile Prepaid Plan so that you can stay continually connected with the people who matter most, including using web2go directly from your phone, via the T-Mobile web site, or using refill cards available at over 90,000 locations nationwide.
With Pay As You Go, you get wireless service exactly how you like it--there's no long-term contract, no credit checks, and no surprises. Add $100 in refills with Pay As You Go and you'll become a Gold Rewards customer, which gets you 15 percent more minutes on all refills and your minutes won't expire for a year after the time you refill.
You can also pay only $1.00 per day for unlimited nights and unlimited nationwide calling to any T-Mobile number. All other domestic calls you make are just 10¢ per minute.
T-Mobile includes the following services with this T-Mobile Pay As You Go phone:
Nationwide long distance (including calls to Alaska and Hawaii)
National roaming on the T-Mobile USA network
T-Mobile web2go (free shopping for HiFi Ringers, MegaTones, wallpapers, and more; not available on all devices)
VoiceMail, caller ID, call waiting, three-way calling
Free e-mail address (10digitnumber@tmomail.net)
Additional services available for additional fees:
Text messaging ($0.20 to send, $0.20 to receive)
Picture messaging ($0.20 to send or receive)
Download ringtones and wallpaper (prices vary)
Download games and applications (prices vary)
411 & More directory assistance ($1.49 per call plus airtime)
International dialing to over 150 countries (international rates apply)
Prepaid international roaming rates
To keep your mobile number active, refill within 90 days after your minutes expire. After 90 days, your account will be canceled and you will lose your phone number. If you want to restart service after that time, you will need to activate new service.
It's also compatible with T-Mobile's myFaves service, which allows you to call up to five of your most common contacts--on any network, even landlines--without using any of your minutes. Learn more about myFaves from T-Mobile.
Phone Features
If your eco-conscience has been nagging you lately, the environmentally responsible Motorola Renew was designed for you. The phone made from 25 percent post consumer recycled plastics, and its plastic case is 100 percent recyclable. It's also the world's first carbon neutral phone. Through an alliance with Carbonfund.org, Motorola offsets the carbon dioxide required to manufacture, distribute and operate the phone through investments in renewable energy sources and reforestation. The phone has earned Carbonfund.org's CarbonFree Product Certification after an extensive product life-cycle assessment.
The box packaging has been reduced by 22 percent in comparison with standard Motorola packaging. Additionally, the reduced package size and weight helps to reduce transportation emissions. Minimizing its carbon footprint through energy, transportation and material efficiencies this device does its part reduce its climate impact.
A no-frills communication partner for your on-the-go lifestyle, the candybar-style Renew has a 1.6-inch LCD screen (128 x 128 pixels, 65K colors) and a standard alpha-numeric keypad. Sitting between the keypad and display are a four-way navigator, send/end keys, two soft navigation keys, and a dedicated digital audio player key. The phone has a small amount of internal memory--enough to store 500 contact entries as well as ringtones and other information--and it can be expanded via optional MicroSD memory cards (up to 2 GB in size). The phonebook can store multiple numbers per contact entry and is compatible with ringer groups as well as photo/ringer ID. Other features include the most recent 10 dialed/received/missed phone calls, a protected USB port on the right side, and a protected headphone jack (2.5mm) on the left side.
Motorola's innovative CrystalTalk technology automatically accounts for background noise during a call and adjusts the audio quality based on ambient noise conditions to provide the optimal conversational experience. CrystalTalk also reduces the volume of the background noise picked up by the microphone during a call, making it possible to be more easily heard over the phone while in a noisy environment.
If you need text messaging capabilities, the Renew has you covered as support is built-in for sending and receiving SMS and MMS messages. T9 predictive text entry, a technology that makes it easier for people to enter words and text on handsets, is built-into the unit--a plus for text messaging users.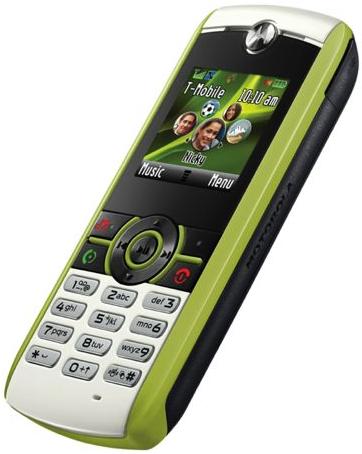 Other features include:
GPRS data connectivity
Handsfree speakerphone
Polyphonic and MP3 ringtones
Vibrating alert
Digital audio player compatible with MP3 files
Tools: Alarm clock, calculator, calendar, voice memo
Downloadable games (Java MIDP 2.0)
Web browser (WAP 2.0/xHTML)
Vital Statistics
The Motorola Renew weighs 2.93 ounces and measures 4.37 x 1.77 x 0.58 inches. It runs on the 850/1900 MHz GSM/GPRS frequencies.
What's in the Box
{{Contents}}