When it comes to music phones, people all over the world want a device that is a great music experience--with more memory, loud and powerful speakers, easy synchronization--but must still work well as a mobile phone. The 3G-enabled Nokia 5800 XpressMusic delivers the best total music experience possible while also keeping you connected to all of your mobile communication--from voice and messaging to social networking and web browsing. This version of the quad-band 5800 XpressMusic GSM/EDGE phone is also ready to run on 3G networks here in the US (850/1900 MHz UMTS/HSDPA), enabling fast downloads and streaming multimedia while on the go.
It all starts with the 3.2-inch touchscreen, which brings photos, video clips and web content to life in vibrant color and true clarity as well as offers easy navigation through its intuitive interface. It also has a 16:9 aspect ratio for optimized playback of high-definition videos. The 5800 XpressMusic is compatible with Amazon Video on Demand, which allows you to download thousands of movies or TV titles directly to your PC and then transfer the video to the phone.
For your musical enjoyment, the 5800 XpressMusic offers all the essentials for your music, including a graphic equalizer, support for all major digital music formats, and a 3.5mm jack. The phone also includes a 3.2-megapixel camera with dual LED flashes and DVD-quality video capture. The built-in Wi-Fi (802.11 b/g) makes it easy to connect to both home networks and hotspots on the go, while the built-in GPS supports location-based services including turn-by-turn navigation. Other features include Bluetooth 2.0+EDR for handsfree devices and stereo music streaming, MicroSD expansion up to 16 GB, integrated stereo speakers, dedicated audio chip for hi-fi sound,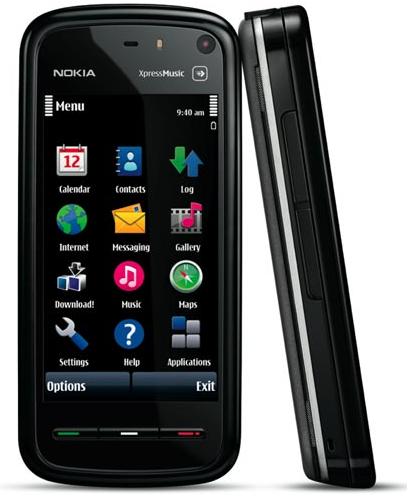 Unlocked Phone
This unlocked cell phone can be used with a GSM network service provider and it provides quad-band connectivity (850/900/1800/1900 MHz). It does not come with a SIM card, and it requires that you provide a SIM card for usage with your selected service provider.
Additionally, this version of the Nokia 5800 XpressMusic can be paired with 850/1900 MHz UMTS/HSDPA 3G networks in the United States. When paired with a compatible 3G network, you'll enjoy a high-speed connection offering a variety of feature-rich wireless services--from data connectivity to your office to multimedia streaming, and take advantage of simultaneous voice and data services. In areas in the U.S. not served by a 3G network or in foreign territories, you'll continue to receive data service via EDGE network (depending on network compatibility).
Phone Features
Among the highest screen resolutions available on a mobile phone, the 5800's 3.2-inch widescreen display brings photos, video clips and web content to life in vibrant color and true clarity. It has a 640 x 360-pixel resolution and support for up to 16 million colors, and it includes an accelerometer that automatically rotates the display based on the orientation of the phone. With a 16:9 aspect ratio and 30 frames-per-second playback and recording, the device is ideal for VGA quality video recording and playback. The Nokia 5800 XpressMusic offers a variety of input methods including a virtual alphanumeric keypad, a virtual computer-style QWERTY keyboard, a pen stylus--and for true music enthusiasts, you can even use a guitar pick.
Making the most of touchscreen technology, the Nokia 5800 XpressMusic delivers easy and fast access to all music, video and photos through a one-touch Media Bar drop down menu. The Media Bar also offers a direct link to the Web and to online sharing. And because the Nokia 5800 XpressMusic supports Flash content, individuals can surf even more of the web. The innovative Contacts Bar lets you highlight four favorite contacts on your home-screen and, through a single touch, track a digital history of recent text messages, emails, phone logs, photos and blog updates.
A dedicated XpressMusic button above the top right corner of the 5800 takes you right to your music. Browse by artist, album and genre, or flick through your playlists. You can also browse, stream and download millions of songs over the air from the Nokia Music store (requires data plan from your carrier). Music playlist song titles can also be shared through Bluetooth, MMS or online sharing. And the newly updated Nokia Music PC software allows for easy drag-and-drop transfer of songs and management of any music collection. Other features include an 8-band graphic equalizer, dedicated volume keys, bass booster, stereo widening, and compatibility with MP3, AAC/AAC+/eAAC+, and WMA digital files. Additionally, you can tune into your favorite radio programs with the stereo FM radio (requires wired headset to be attached).
The Nokia 5800's camera features a lens made by Carl Zeiss, a world leader in high quality camera lenses. The Zeiss name has been associated with state-of-the-art optics from Hasselblad, Rollei, Yashica, Sony, and Nikon. The 3.2-megapixel camera offers an autofocus lens, 3x digital zoom and dual LED flashes with a red-eye reduction mode. You can also record videos in four resolution modes (with up to a 4x digital zoom), including 640 x 480 pixels (standard TV resolution) and 640 x 352 pixels (widescreen quality)--both at 30 frames per second (fps). You can shoot up to 90 minutes of video, depending on available memory.
After snapping photos or recording videos, you can quickly crop, rotate and touch up your images as well as cut, splice and add a soundtrack to videos. And with a single touch, images or videos can be shared via a favorite online community, such as Share on Ovi, Flickr, or Facebook. Photos and video clips can be enjoyed on a compatible television thanks to the device's TV out feature and support for Universal Plug and Play (UPnP) technology.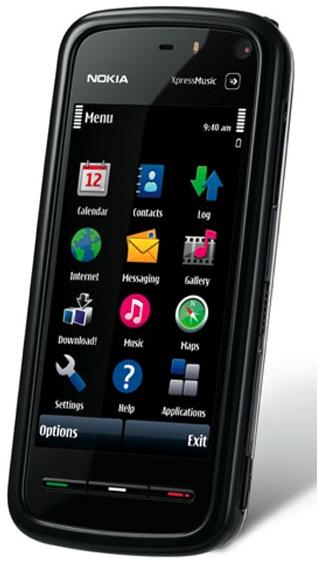 With A-GPS functionality, you'll be able find your route quickly and easily, whether walking or driving (A-GPS is a network dependant feature that requires a data plan; additional charges may apply). The Nokia Maps application offers richer maps with urban details and satellite views and the ability to search and download information about points of interests, such as restaurants, hotels, companies, travel agencies, airports, and more. It also provides optional upgrades such as City Guides, turn-by-turn pedestrian mode and voice-guided car navigation.
Handsfree communication is easy thanks to the integrated speakerphone. This phone also provides Bluetooth wireless connectivity (version 2.0+EDR), and includes profiles for communication headset, handsfree car kits, and file transfer. With the A2DP Bluetooth profile, you can stream your music to a pair of compatible Bluetooth stereo headphones. You can connect your laptop (either via Bluetooth or wired USB) and enjoy dial-up networking--surf the Internet, send email, and access files from a server (additional charges or subscription applicable).
Other features include:
81 MB internal memory
MicroSD memory card slot, hot swappable, accepts maximum 16 GB card
Integrated hands-free speakerphone
Vibrating alert (internal), also with tactile feedback
Email: support for IMAP, POP, SMTP protocols and email attachments
Messaging: SMS text (with multiple SMS deletion); MMS picture video (up to 600 kb with automatic resizing of images); Nokia Xpress audio messaging; instant messaging; distribution lists for messaging
Contacts bar for 4 contacts with images and communication history (SMS, IM, email, web feeds)
Conference calling with up to 6 participants (when supported by service provider)
Integrated stereo speakers with surround sound (crystal clear hi-fi sound quality with dedicated audio chip)
Operating system: S60 5th edition, Symbian OS version 9.4
Multimedia: Flash Lite 3.0, Java MIDP 2.0
Ring tones: 3D stereo ring tones, 64-tone polyphonic, mp3 and video ring tones
Organizer tools: Calendar with week and month view, alarm clock, reminders, notes, to-do list, converter, calculator, clock (analog and digital, world clock)
Voice dialing: speaker independent dialing and voice commands (SIND)
Voice recorder
Video playback file formats: MPEG4-SP playback 30fps VGA; MPEG4-AVC playback 30fps QVGA; WMV9 playback 30fps QVGA; MPEG4-SP playback 30 fps nHD
Video recording: 640 x 480 pixels and up to 30 fps (TV high quality); 640 x 352 pixels and up to 30 fps (widescreen quality); 320 x 240 pixels and up to 30 fps/15 fps (email high/normal quality); 176 x 144 and up to 15 fps (sharing quality)
Support for PC synchronization with Nokia PC suite
Vital Statistics
The 5800 XpressMusic weighs 3.8 ounces and measures 4.37 x 2.04 x 0.61 inches. It runs on the 850/900/1800/1900 MHz GSM/GPRS/EDGE frequencies and 850/1900 MHz UMTS/HSDPA 3G networks in the United States.
What's in the Box
{{Contents}}