The super-smart Samsung Fascinate for Verizon Wireless brings a fully integrated entertainment, messaging, and social networking experience to your mobile phone, thanks to its open and innovative Android 2.1 platform. You'll be able to zip through the Web and multitask between a bevy of apps with the Fascinate's 1 GHz processor and ultra-fast 7.2 Mbps 3G connectivity.
In addition to high-speed connectivity on the fast and reliable Verizon Wireless 3G network, you can also share the built-in 3G Mobile Hotspot via Wi-Fi among five devices--laptop, another phone, MP3 player, and more (additional service charge).
The Samsung Fascinate is also compatible with the V Cast Music with Rhapsody service, which enables you to purchase songs through your phone and download them via the fast Verizon Wireless 3G EV-DO data network, and the V CAST Video on Demand service that enables you to watch full-length TV shows plus news, sports, weather, and live entertainment video clips. You'll also stay on course thanks to the VZ Navigator GPS turn-by-turn direction service. And with the optional Visual Voice Mail service, you'll be able to quickly and easily scroll through your messages and pick the ones you want to listen to.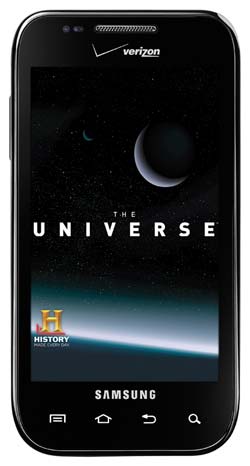 With integrated Google technology, the Fascinate brings one-touch access to the popular Google mobile services millions use every day, including Google Search by voice, Google Maps with Street View, GTalk instant messaging (with presence capabilities), YouTube, and Picasa. The Fascinate also provides easy access to both personal and corporate e-mail, calendars, and contacts supported by Exchange Server and Gmail. And through Android Market, you'll get access to thousands of useful applications, widgets and fun games to download and install on your phone, with many more apps being added every day.
The Fascinate has a large 4-inch Super AMOLED touchscreen display that provides brighter, thinner, and higher-resolution than traditional screens. Samsung's innovative display technology makes watching movies, viewing videos and playing games come to life like never before, even in bright light and outdoor environments. And messaging is simple and easy with the Fascinate's virtual QWERTY keyboard with Swype technology, which allows you to input text faster and in a more intuitive way with one continuous finger motion across the screen keyboard.
At 0.39 inches (9.9mm) thin, the Fascinate is the thinnest Android smartphone on the market, and it packs in a 2 GB internal memory with compatibility for optional microSD cards up to 32 GB in size. Other features include a 5-megapixel camera/camcorder with auto-focus and HD video recording (720p resolution), fast Wireless-N Wi-Fi networking (802.11b/g), and Bluetooth 3.0 technology for hands-free devices and stereo music streaming.
Samsung Social Hub
Offering one-stop shopping for all your updates, the Samsung Social Hub all your social networking services, messages, personal and business e-mail, calendars and contacts. It's built around Messaging and Contacts, both of which initiate the sending and receiving of information--whether it is e-mail, instant messaging, social network updates or SMS messages. Additionally, calendar information from portal calendars, such as Google Calendar, and social networking services are displayed together in one calendar with two-way synchronization.
The familiar text messaging experience is enhanced with group messaging and "reply all" functionality for up to 10 contacts, a threaded conversations format, a consolidated inbox, and enhanced multi-media display.
Key Features
Fast 3G connectivity thanks to the reliable Verizon Wireless EV-DO, Rev A network
GPS navigation capabilities via VZ Navigator service plus Bing Maps and Google Maps (available via Android Market)
Ultra-fast Wireless-N Wi-Fi networking (802.11b/g/n) for accessing home and corporate networks as well as hotspots while on the go.
3G Mobile Hotspot capability allows you to create a Wi-Fi hotspot using your Verizon Wireless 3G EV-DO connection, which can then be shared among up to five Wi-Fi-capable devices. The 3G Mobile Hotspot is the perfect family vacation companion, and at $20 for 2 GB and 5 cents per megabyte overage, it provides an allowance big enough for sharing with the entire family for downloading games, Internet access, and more.
Powered by the Android operating system (version 2.1) with deep integration of Google services and access to thousands of apps to customize your phone via the Android Market.
1 GHz Samsung Hummingbird processor speeds up everything--from playing games to watching shows to opening files from work.
Swype input system allows you to input text faster and easier by gliding your finger around the keyboard, moving from letter to letter in one continuous motion. The Swype technology then calculates what word you're intending to type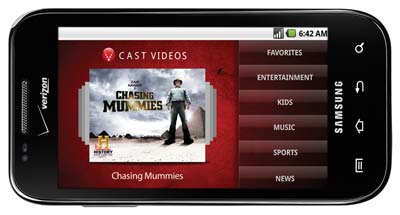 Samsung Social Hub provides one stop for all your updates integrates all your social networking services, messages, personal and business e-mail, calendars and contacts.
4-inch Super AMOLED touchscreen display (480 x 800 pixels, 16 million color depth) is one of the thinnest, most responsive full-featured smartphones in the industry.
2 GB internal memory
5.0-megapixel camera with auto-focus and LED flash.
HD video recording (720p) plus easy upload to YouTube.
Multi-format digital audio player compatible with MP3, WMA, and AAC/AAC+/eAAC+ formats
Blockbuster movie rentals and purchases
DivX video playback
Next-generation Bluetooth 3.0 connectivity provides faster throughput while minimizing on power requirements. It's compatible with new Bluetooth 3.0-enabled devices as well as backward compatible with older Bluetooth-enabled peripherals such as headsets and printers. It includes profiles for communication headset, hands-free car kits, and the A2DP Bluetooth profile--enabling you to wirelessly stream your music to a pair of compatible Bluetooth stereo headphones or speaker dock.
YouTube app for streaming video over 3G and Wi-Fi connections.
DLNA compatibility allows you to stream media content from the phone to any other DLNA‐certified device. The AllShare application enables you to play a file from your phone on another player, play a file from a server on your phone, or play a file from a server on another player via your phone.
Rich HTML e-mail application seamlessly syncs your e-mail, calendar and contacts from Gmail as well as most other POP3 or IMAP e-mail services. The Gmail application provides features such as conversation view, spam filtering, search, and labels that Gmail users enjoy on their computer while offering new features such as integration with the phone's contact list. And it multitasks, so you can read a Web page while also downloading your e-mail in the background.
Full HTML Web browser enables you to view more pages and enjoy better Web content delivered efficiently to your phone.
Instant messaging support for Google Talk, as well as AOL, Yahoo! Messenger and Windows Live Messenger. It also supports advanced text messaging features, enabling you to easily flag, delete or move groups of messages and keep track of group conversations through threaded text messaging.
Text (SMS) and picture/video (MMS) messaging
Google Calendar app syncs with the Web-based version, so any event that you add to your phone will show up on the Web-based Google Calendar (and vice versa).
Airplane mode allows you to listen to music while the cellular connectivity is turned off
3.5mm headphone jack
TTY compatible
Hearing Aid Compatibility = M4
Vital Statistics
The Samsung Fascinate weighs 4.16 ounces and measures 4.92 x 2.53 x 0.39 inches.
What's in the Box
{{Contents}}