The latest email-optimized device from the Nokia E-eries, the sleek and slender Nokia E71 makes it easy to stay on top of your email inbox with a full QWERTY keyboard and support for corporate communication via Microsoft Exchange. Other features include a 3.2-megapixel camera/camcorder, Bluetooth for handsfree devices and stereo music streaming, MicroSD memory expansion (up to 8 GB), built-in A-GPS and Nokia Maps application. It also includes integrated Wi-Fi connectivity (802.11b/g) for accessing open networks at work, at home, and on the road from a variety of wireless hotspots.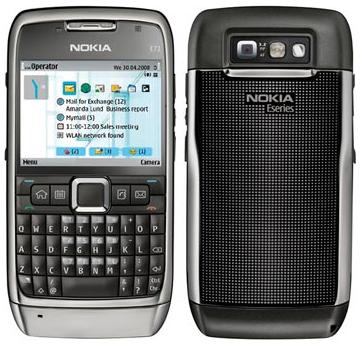 This version of the unlocked Nokia E71 can be used with a GSM network service provider and it provides quad-band connectivity (850 MHz, 900 MHz, 1800 MHz, 1900 MHz). It runs on the 850/1900 US 3G frequencies. It does not come with a SIM card, and it requires that you provide a SIM card for usage with your selected service provider.
When paired with a compatible 3G network that uses HSDPA, you'll enjoy a high-speed connection offering a variety of feature-rich wireless services--from data connectivity to your office to multimedia streaming, and take advantage of simultaneous voice and data services.
Phone Features
With a stainless steel case, etched graphics, and cool metallic finish, the Nokia E71 is as stylish as it is functional. It's complemented by a 2.4-inch LCD screen with a 320 x 240-pixel resolution and support for 16 million colors. The full QWERTY keyboard makes it easy to compose and respond to email with just one hand. It features intelligent input with auto-completion, auto-correction, and learning capability for fast and error-free typing. The E71 also offers two customizable Home Screen views with active stand-by plug-ins and application shortcuts for fast and easy switching betweenbusiness and personal modes. This phone has a 110 MB internal memory, which can be expanded via optional MicroSD memory cards (up to 8 GB in size).
The Nokia E71 comes fully equipped for easy-to-install and easy-to-use professional and personal email. People who use Microsoft Exchange at work can access their email using the Mail for Exchange mobile email client, which comes pre-loaded. You'll enjoy reliable real-time access to your email, calendar, contacts and tasks, as well as be able to download attachments like Word, Excel, Powerpoint or PDF files directly to the device.
The Nokia E71 also supports email accounts from more than a thousand internet service providers (ISPs) around the world, as well as Gmail, Yahoo! mail and Hotmail. Additionally, it supports the Nokia Intellisync Wireless Email solution as well as third party email solutions like System Seven and Visto Mobile.
In addition to serving entrepreneurs and smaller businesses, the Nokia E71 comes fully equipped with a robust suite of enterprise grade features, including a built-in encryption functionality for both the device memory and for the memory card. The phone also includes integrated mobile VPN support that gives mobile professionals access to their company intranet, and device lock and wipe to protect corporate information.
This phone provides Bluetooth version 2.0 wireless connectivity with EDR (enhanced data rate), and includes profiles for communication headset, handsfree car kits, and sharing of contacts and calendar events. With the A2DP Bluetooth profile, you can stream your music to a pair of compatible Bluetooth stereo headphones.
The 3.2-megapixel camera offers a wealth of high-end photography features, including autofocus, a digital zoom, LED flash, white balance modes, center-weighted auto exposure, multiple scene modes, and a self timer. The phone's main camera can also capture video clips up to 320 x 240 pixels (at 15 frames per second) at up to 1 hour in length, and it offers several adjustments including scene and white balance. Additionally, the E71 has a secondary, lower resolution camera on the front (QCIF resolution, 128 x 96) that can be used for making video calls (requires compatible network).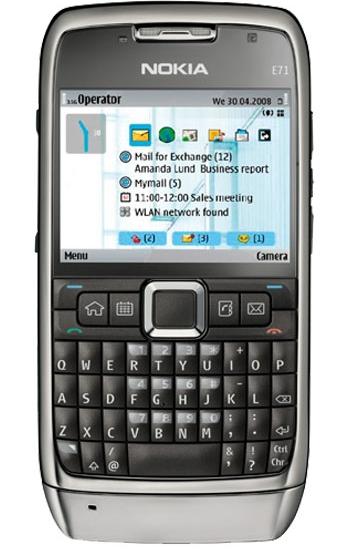 Take your media with you when you're out on the go. With the built-in RealPlayer software, you can stream and download your favorite content onto the phone, giving you access to the latest news, sports, and entertainment updates. Or sync up with your PC and play the music and movies stored on your hard drive. It's compatible with a wide variety of digital audio formats (including MP3, AAC/AAC+/eAAC+, abd WMA). You can listen to your favorite radio programs via the integrated FM radio, and the Visual Radio feature lets you see information about songs or artists.
View web pages as they were originally intended with the integrated Nokia Web Browser, which enables you to zoom out to a full screen view of the entire page using the Mini Map feature. Find the section you want and then zoom in to the content you need. The text instantly adjusts to the size of your screen. The browser also keeps a history of your browsing so you can quickly get back to where you started.
The integrated A-GPS and preinstalled Nokia Maps help you explore and locate new places, whether in another country or just around the corner. With access to more than 15 million points of interest, you can locate and navigate to the most interesting sights, bars or restaurants wherever you are. You can also send map excerpts and routes to friends by MMS or save map screen shots to the gallery.
Vital Statistics
The Nokia E71 weighs 4.44 ounces and measures 4.49 x 2.24 x 0.39 inches.
What's in the Box
{{Contents}}