Samsung B5722 Unlocked Dual Sim Brown Cell Phone - Refurbished - No Contract Required
We value your privacy
Satisfaction Guaranteed
Samsung B5722 Unlocked Dual Sim Brown Cell Phone - Refurbished
Double the convenience, half the hassle! Dual SIM card slots and dual standby access let you turn your mobile into 2 phones, helping you easily switch back and forth between SIM cards for greater coverage, flexibility between calling plans, and separating business and pleasure calls. The stylish touchscreens brings easy navigation to your fingertips with style and grace.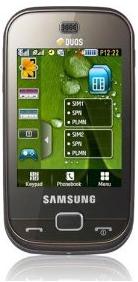 Dual Stand-by
• You will be able to access 2 different SIM cards with just one convenient and compact touch screen handset. Whether you want to take advantage of different calling plans, or want to keep your business and personal calls separate, the B5722 provides the convenience of two cell phones with a one-mobile solution.
Touch Experience

• The B5722's touch experience elevates the mobile experience, bringing everything the mobile has to offer right to your fingertips. The 3-page extended menu means that you can have easy and instant access to all your apps. Commands are obeyed with a tap of the finger, even when switching SIM card use.
Slim & Stylish Design

• From the soft rounded edges to the slim and compact frame, the B5722 brings stylish design to the user's palm. The 2.8"large QVGA screen is the perfect canvas to showcase all the mobile's features, especially with the intuitive touch screen.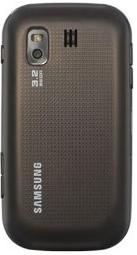 Easily Switch SIM Cards

• Switch between SIM cards easily and without needing to reboot the mobile. Switching-SIM-card commands are obeyed with a tap of the finger, the use of dual SIM cards has never been easier or more intuitive.
Samsung Communities™

• Samsung Communities™ enables you to upload photos, links and update status messages while keeping in touch with your friends' SNS pages. 6 web icons offer Quick Links to SNS websites in the widget bar.
Palringo Messenger

• GTalk, AIM, ICQ, and Palringo Chat are all available through the Palringo platform. Multiple instant messaging services work on one universal platform, so you can keep in touch with all of your friends at the same time.
3.2 MP Camera

• The 3.2 Megapixel Camera with built-in flash ensures the photos always come out crystal clear, even when it's dark out. You can use the embedded built-in Image Editor to alter and improve photos right on the mobile.
Music Player

• The built-in music player with DNSe ensures acoustic output that rivals large stereo systems. FM radio plays music and information around the clock.
What's in the Box
{{contents}}