The Sony Ericsson W800 was a big hit. Now, here comes the sequel, the W810. All the same great Walkman features are here, along with robust phone functions, but now you get quad-band GSM, a larger and brighter display, and perhaps most importantly, support for EDGE high speed data. In addition to a powerful and easy-to-use Walkman music player, the W810 boasts a 2-megapixel auto-focus camera with flash, a Memory Stick Duo card slot, Bluetooth, and a speakerphone. Simply put, this baby's loaded.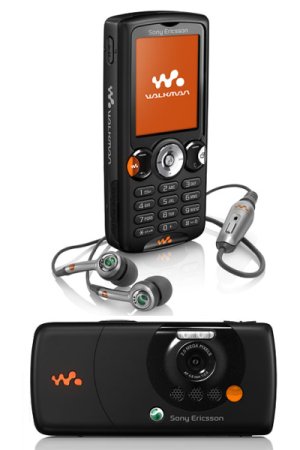 Design
The W810 follows a long tradition of beautifully designed and crafted phones from Sony Ericsson. The same candy-bar style that graced the W800 is here, as is the horizontally-oriented camera unit on the back of the phone, allowing you to hold the phone just as you would a camera when you're taking pictures. The W810's screen sports 176 x 220 pixel resolution with support for 262,000 colors. Quick access buttons below the screen make it easy to control the phone's Walkman music features, while a five-way center button controls most of the phone's menus and features.
The W810 contains 20 MB of embedded memory, but as mentioned, a Memory Stick Duo slot is provided, and it also supports Pro Duo cards, giving you storage capacities of 2 GB and beyond. The phone ships with a 512 MB Memory Stick Duo card. Of course, there's also a port for the phone's included stereo headset. USB and infrared data ports are provided, as well, and the phone supports USB mass storage so you can simply plug the phone into your computer and drag and drop files into the phone's memory using the included Disc2Phone PC application. To top it all off, the W810's camera flash can double as a flashlight.
Calling Features
The W810's phone book can hold up to 1000 contacts with multiple entries per contact. A call list remembers your most recent missed, received and dialed calls. The phone's voice activated dialing makes calling your contacts as easy as saying their names, while the built-in speakerphone makes it easy to talk without having the phone to your ear. Polyphonic ringtones are included and you can also use MP3 and AAC music files as ringtones. A cool application called Music DJ even lets you mix your own ringtones. Meanwhile, picture caller ID lets you assign a photo to specific callers. Similarly, a ringer ID lets you assign ringtones to callers. For those times you want to keep things discreet, there's a vibrate ringer mode. And because the W810 is Bluetooth-enabled, you can use a variety of headsets and handsfree kits for total wireless freedom when you're on the go.
Messaging, Internet, and Tools
If you're looking for a mobile productivity partner, the W810 has you covered. Support is built in for sending and receiving pictures, text, graphics, and sound via MMS messages. When used in combination with the phone's built-in still and video camera, MMS opens up a whole new world of messaging possibilities. The phone also ships with a built-in email client with support for POP3, IMAP4 and SMTP protocols, while the included Access NetFront Web Browser allows you to surf full HTML web sites. T9 text entry, a technology that makes it easier for people to enter words and text on handsets, is built into the unit-- a plus for mobile email and text messaging users.
Getting on the Internet is easy with the W810, as it supports the GPRS protocol, as well as the high speed EDGE data protocol. When used with your carrier data plan and the phone's Bluetooth or USB data capability, the phone can be used as a wireless modem for laptops and PDAs.
A number of handy software tools are bundled with the W810, including a voice memo recorder, a to-do list, a calculator, a calendar and an alarm clock. The phone also supports the SyncML PC synchronization standard, which lets you synchronize your PC-based calendar, contacts, notes and tasks with your W810.
Imaging and Entertainment
The W810 is a Walkman phone, and that means it offers a great mobile music experience. Load up your favorite songs in MP3 or AAC format on a memory card and listen to your heart's content. The user-friendly music player application also includes a "Music Mode" that shuts down the phone functions so you can listen on an airplane or anytime you don't want to accept calls. Meanwhile, Digital Mega Bass and stereo widening combine to enhance your listening experience. There's even an FM radio for catching the big game or your favorite stations. The radio also supports reception of digital song information from radio stations.
And don't forget about that powerful 2-megapixel camera, which features something most camera phones lack -- autofocus. Finally, you can get consistently great shots from any distance, shots that rival the quality of a dedicated digital camera. The camera also features an LED flash and a 4x digital zoom, and it can capture video, as well. Dedicated controls on the side of the unit will make you forget you're holding a phone in your hand.
And what about gaming? This phone is definitely geared for the mobile fun fanatic, as it supports widescreen and 3D games. The W810 comes preloaded with several games and more are downloadable from Sony Ericsson.
Vital Statistics
The Sony Ericsson W810 weighs 3.49 ounces and measures 3.94 x 1.81 x .77 inches.  It runs on the GSM/GPRS/EDGE 850/900/1800/1900 frequencies.