Adding Wi-Fi connectivity to the popular, slim 8800 design, the BlackBerry 8820 smartphone keeps its predecessor's top flight features: easy-to-use trackball navigation system, internal GPS, and push-to-talk functionality. It also supports AT&T Mobile Music, XM radio, and stereo Bluetooth headset capabilities. And, of course, it offers what you expect from a Blackberry: an easy-to-type QWERTY keyboard, push email with attachment viewing options, and text (SMS and MMS) and instant (IM) messaging capabilities. This quad-band GSM phone is ready to take on the world, and it's compatible with AT&T's EDGE data network for Web browsing and quick downloads.
Wi-Fi Connectivity
The BlackBerry 8820 supports the 802.11 a/b/g Wi-Fi standards to enable data access in the enterprise, as well as through public hotspots and wireless home networks. It works in conjunction with both BlackBerry Enterprise Server and BlackBerry Internet Service and can seamlessly switch between cellular networks and a Wi-Fi network to allow you to access email, instant messaging, organizer, web browsing and other mobile data applications.
To meet various security requirements, the BlackBerry 8820 is compliant with Wi-Fi security protocols including WEP, WPA and WPA2, as well as Cisco Compatible Extensions for simple, secure connectivity with Cisco wireless solutions. For enterprises that require Wi-Fi users to access the corporate network through a VPN, the BlackBerry 8820 includes IPSec-based software that supports the most commonly deployed VPN gateways from vendors including Cisco, Check Point and others. The BlackBerry 8820 also supports UMA, enabling wireless carriers to offer a fixed-mobile convergence service for both business and home use.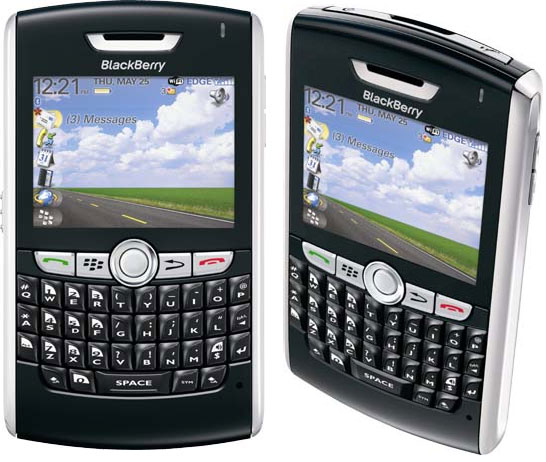 Design
Right out of the box, the first thing you'll notice is the convenient set-up wizard that helps you get to know the BlackBerry 8820 quickly. The time-saving tutorial helps you with the set-up process, walks you through the features and functions, and explains how to personalize settings so you can make your smartphone truly your own.
Design-wise, the BlackBerry 8820 is a nice upgrade from BlackBerry devices of the past. The side trackwheel has been replaced by an even easier to use trackball navigation system located on the top of the keypad. And yes, just like most BlackBerries of the past, you'll still find a full QWERTY keyboard, however, this handheld is thinner and lighter, and the screen is bigger and brighter than ever with its high resolution 320 x 240 LCD full color display. Intelligent light sensing technology automatically optimizes screen lighting levels for indoor and outdoor viewing. The BlackBerry 8820 also features large, dedicated send and end keys for easy call management. Dedicated volume and mute keys are found on the right side of the device so you can quickly make adjustments without having to fumble for the right button, while advanced sound technology that cancels out background noise and echo, helps ensure you can always hear and be heard, is also included. The supported USB connectivity makes file transfers to and from your PC a snap, and you can even use the USB cable and power from your PC to charge your 8820 if a standard electric outlet is not readily available. A removable high-capacity lithium-ion battery is housed in the rear of the handheld.
The popular BlackBerry user interface is here, too, but it's been updated with a new look. Under the hood, a powerful 312 MHz processor and 64 MB flash memory combine to deliver a dynamic, highly responsive experience when viewing attachments and graphics, browsing the Web, and running applications. There's also a standard 2.5mm headset jack that can be used with an ordinary headset, while the supported Bluetooth 2.0 technology allows compatibility with wireless stereo headsets. The supported microSD card slot on the BlackBerry 8820 means you've got the room you need for all your favorite pictures, music, and videos. Just load up what you need on a microSD card and go.
Calling Features
Many of the calling capabilities folks have come to expect in a wireless phone are present, but the BlackBerry 8820 ups the ante with MP3 and polyphonic ringtones. A vibrating alert, speed dial, and a contacts list/address book (limited only by the unit's 64 MB of internal memory) are also included. And because Voice-Activated Dialing (VAD) is supported on the BlackBerry 8820, you can initiate a call simply by telling your smartphone who you want to speak to. VAD integrates seamlessly with the built-in speakerphone or a Bluetooth headset for hands-free dialing.
Messaging, Internet, and Tools
The BlackBerry 8820 delivers the legendary BlackBerry email experience. With BlackBerry service plans from AT&T, you can receive emails instantaneously from up to 10 email accounts (personal and enterprise). With BlackBerry push technology, you don't need to retrieve your email. BlackBerry devices are designed to remain on and continuously connected to the wireless network, allowing you to be discreetly notified as new email arrives. Support is also built-in for viewing email attachments (Word, Excel, PowerPoint, WordPerfect, and PDF formats).
Because the BlackBerry 8820 is fast, and because it supports EDGE high-speed data networks, you can take full advantage of enterprise applications that are wirelessly enabled by the BlackBerry platform, such as sales force automation, field service automation, network and systems management, and more.
If your company has a BlackBerry Enterprise Server installed, you can also take advantage of the power of wireless calendar synchronization. Your calendar events are exchanged wirelessly and automatically so that your desktop calendar and BlackBerry handheld calendar are synchronized. All your Outlook meeting requests, changes, and updates are instantaneously synchronized instantaneously with your desktop. Make meeting requests, invite new attendees and more, all on your BlackBerry 8820. Users without BlackBerry Enterprise Server support can manually sync with their desktop calendars and contacts via Bluetooth or USB using the included BlackBerry Desktop Software.

Among the unique features of the BlackBerry 8820 are AT&T's Push-to-Talk (PTT) service and TeleNav GPS Navigator. AT&T Push-to-Talk boasts the largest push to talk coverage area in America. PTT features on the BlackBerry 8820 include "availability" icons, quick group calling, and the ability to easily convert a PTT session to a regular wireless voice call. Customers can use their BlackBerry 8820 to Push-to-Talk to individual colleagues or friends, or set up groups for broader communication. The PTT button, on the left side of the device, easily facilitates each PTT call (simply press and hold to talk after the chirp and release when finished). In addition, the AT&T service offers such standard PTT features as call waiting, contact alerts, as well as text, picture, and voice messaging to anyone in their contact list. AT&T customers can also take advantage of the TeleNav GPS Navigator software on the BlackBerry 8820. Enjoy real time turn-by-turn audible directions while driving and walking and view colorful 3D moving maps.
The BlackBerry 8820 ships with a number of additional tools, including a calculator with a unit converter and a to-do list. The handheld's software is based on the Java platform, meaning Java-compatible games and applications can be added to the handheld.
Vital Statistics
The BlackBerry 8820 weighs 4.73 ounces and measures 4.49 x 2.60 x 0.55 inches. It runs on the 850/900/1800/1900 GSM/GPRS/EDGE frequencies.
What's in the Box
{{Contents}}