Great for mobile messaging as well as providing excellent voice communications, the Symbian-based Nokia E5-00 unlocked mobile phone follows the successful blueprint of devices such as the Nokia E72 and Nokia E63. It combines high-quality business features--such as synchronization of contacts and e-mail with Microsoft Exchange and IBM Lotus Notes Traveler environments--with all of the personal networking and entertainment capabilities that a busy professional expects from a smartphone. The E5 also provides access to social networks directly on the homescreen, enabling you to view, comment, and update your status and share pictures to social networks such as Facebook and Twitter.
You'll stay on track thanks to the integrated GPS with free Ovi Maps Navigation for voice-guided directions, and you can find nearby restaurants, landmarks, events and other points of interest as you travel from place to place. Keep on top of your emails from your phone or computer using the free Ovi Mail service, and discover and download apps and games via the pre-loaded Ovi Store. You'll also be able to sync, store, and manage your documents and files remotely with Ovi Files.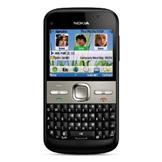 Type a quick email, SMS or note using the full QWERTY keyboard--built for fast, efficient messaging--and see everything clearly on the 2.36-inch widescreen display. Other features include Wi-Fi networking, 5-megapixel digital camera with DVD-quality video capture, Web browser with RSS feed support, multi-format digital media player, and personal organizer tools.
Unlocked Phone
This unlocked cell phone can be used with a GSM network service provider. It does not come with a SIM card, and it requires that you provide a SIM card for usage with your selected service provider.
When paired with a compatible 3G network, you'll enjoy a high-speed connection offering a variety of feature-rich wireless services--from data connectivity to your office to multimedia streaming, and take advantage of simultaneous voice and data services. In areas not served by a 3G network, you'll continue to receive data service via EDGE network (depending on network compatibility).
Note that the downloading of maps, games, music and videos and uploading of images and videos involves transferring large amounts of data. Your service provider may charge for the data transmission, and the availability of particular services and features may vary by carrier.
Key Features
Fast 3G connectivity with broadband-like speeds via 850/1900/2100 MHz UMTS/HSDPA (with EDGE data connectivity where 3G not available).
Integrated assisted GPS (A-GPS) receiver with free Ovi Maps enables you to find your route quickly and easily, whether walking or driving. Use the Walk pedestrian navigation to find your way, or the voice-guided Drive navigation to find the best route.
2.36-inch LCD screen (320 x 240 pixels, 256K color depth)
Full QWERTY keyboard with dedicated home and messaging keys; five-way Navi key with soft keys, call and end keys.
Symbian OS version v. 9.3 (S60 3rd Edition, Feature Pack 2)
See and share your Facebook and Twitter feeds from friends and colleagues right from your homescreen
5-megapixel camera with 3x digital zoom, LED flash, multiple scene, white balance, and capture modes (such as panorama), and still image editor
Video capture capabilities with VGA resolution (640 x 480) at 15 frames per second (fps)
Digital audio/video player with compatibility for MP3, WMA, and AAC/eAAC+ audio formats, plus MP4 and 3GPP video formats
Wi-Fi networking (802.11b/g) for accessing home and corporate networks as well as hotspots while on the go.
Bluetooth connectivity (version 2.0) includes profiles for communication headset, hands-free car kits, and the A2DP Bluetooth profile--enabling you to wirelessly stream your music to a pair of compatible Bluetooth stereo headphones or speaker dock.
256 MB internal memory
SMS and MMS messaging with common inbox
Instant messaging via AIM, Yahoo! Messenger, MSN Live, and Google Talk
Corporate e-mail connectivity via Mail for Exchange and IBM Lotus Notes Traveler
Access to personal e-mail via Yahoo! Mail, Gmail, Windows Live, Hotmail, and other popular POP/IMAP services. Easy Ovi Mail free email account creation directly from phone.
Nokia Web Browser (OSS) with Mini Map, Web feeds support (RSS) and xSP framework support
Pre-loaded applications include Quick Office Suite, PDF reader, ZIP (for compressed files), and Dictionary
Organizer tools including calendar, to-do list, notes, active notes, recorder, calculator, clock, and converter
Airplane mode allows you to listen to music while the cellular connectivity is turned off
3.5mm headphone jack
USB 2.0 port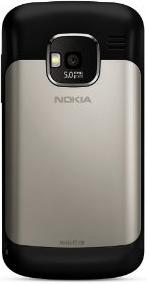 Vital Statistics
The Nokia E5-00 weighs 4.4 ounces and measures 4.5 x 2.3 x 0.5 inches. It runs on the 850/900/1800/1900 MHz GSM/GPRS/EDGE frequencies, plus 850/1900/2100 3G networks (HSDPA).
Free Worldwide Walk and Drive Navigation
Nokia now offers its Ovi Maps walk and drive navigation application free across the globe. Drivers receive turn-by-turn voice guidance including lane assistance, traffic information (in 10 countries including the U.S.), and safety camera and speed warnings, while pedestrians will be guided on shortcuts through parks and pedestrian-only zones in over 100 cities across the globe. And unlike other mobile navigation mapping solutions, Ovi Maps works offline--no cellular service is required.
With the new Ovi Maps for mobile you get for free:
Maps for over 180 countries and free map updates
Drive and Walk navigation available in over 70 countries with real-time voice guidance
My Position enables you to find your current location easier and faster than ever.
New one box search for quicker access to finding places and addresses.
Save your favorite places and routes, then synchronize them with your Ovi account over the air.
Car navigation with voice and visual instructions, lane assistance and speed limit information. Now also with text-to-speech voice guidance.
Pedestrian navigation with routing through pedestrian zones and shortcuts, pathways through parks and buildings, stairways and plazas. Now with text-to-speech voice guidance.
Get real-time weather information including a 5-day forecast, for your current or any location found via search.
Lonely Planet and Michelin offer you dynamic access to the best and most relevant editorial travel content for over 1000 destinations. Find thousands of listings for sights, restaurants, hotels, shops, nightlife, and more. Look these places up on the map and get to them with Walk and Drive navigation.
Discover the events happening nearby your location on the map or any place found via search.
Share your location on Facebook--where you are, what you are up to and finish with a photo.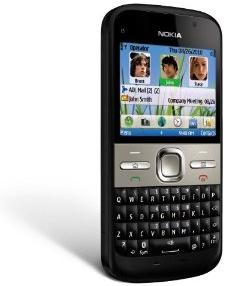 No Hidden Costs
The new version of Ovi Maps comes with all the maps and high-end, car grade navigation features you need for free and is yours to keep for the life of the smartphone. No additional licenses needed for extra countries, regions or services like traffic information or city guides. Data charges from network operators may apply.
Voice Guidance and Traffic Information
Turn-by-turn, voice guided navigation comes free for both drivers and pedestrians. For drivers this includes lane assistance, traffic information, safety camera, and speed warnings. For pedestrians, this includes shortcuts through parks and pedestrian-only zones for over 100 cities around the world as well as 6,000 3D landmarks in over 200 cities to help you find exactly where you are.
Unique Hybrid Technology
Ovi Maps is built on an advanced technology called hybrid vector maps. Vector maps are high quality but less data intensive and allow you to continue to navigate even if you lose your network connection. This means that maps downloaded or updated across a network connection are about half the size of bulky bitmaps used by other mobile map providers. The hybrid technology ensures that, unlike other providers, any downloaded map data is stored on the device for future use.
No Network Connection Required When Navigating
Avoid expensive, battery-draining network connections with Nokia's unique hybrid technology. Maps can be pre-loaded on to your Nokia smartphone so you can set Ovi Maps to offline mode, saving battery power, and the navigation system will still work. This is particularly useful for those worried about data connection costs when travelling abroad or when you are travelling through areas with little or no network coverage.
Best Global Coverage
You take your mobile with you wherever you go in the world so, as standard, voice guided navigation for both pedestrians and drivers is available for 74 countries in 46 different languages and there are maps for over 180 countries. This gives you the best maps with the largest global coverage for free.
What's in the Box
{{contents}}