Great for mobile messaging and social networking as well as providing excellent voice communications, the Symbian-based Nokia C6 smartphone combines a 3.2-inch touchscreen display with a side-sliding full QWERTY keyboard. The large screen offers an excellent Internet viewing experience, and it also features a full suite of e-mail and social networking capabilities. Update your status, comment on your friends and family, or take pics with the 5-megapixel camera and share them on Facebook, MySpace, Flickr and Ovi Share.
You'll stay on track thanks to the integrated GPS with free Ovi Maps Navigation for voice-guided directions, and you can discover and download apps and games via the pre-loaded Ovi Store. Enjoy push e-mail and easy messaging with home screen widgets to help seamlessly set up e-mail, with support for several personal e-mail services (like Gmail, Yahoo!, Hotmail, Ovi Mail and more) along with corporate e-mail (Mail for Exchange).
The Nokia C6 comes with a pre-loaded 2 GB microSD memory card that includes Ovi Maps data for the US, Ovi Suite, and bonus content--no need to download anything from the Web or discs. And you can add more memory via optional microSD memory cards up to 16 GB in size. Other features include Wi-Fi networking, a full HTML Web browser with RSS feed support, multi-format digital media player, personal organizer tools, and up to 5 hours of 3G talk time (7 hours on standard GSM networks).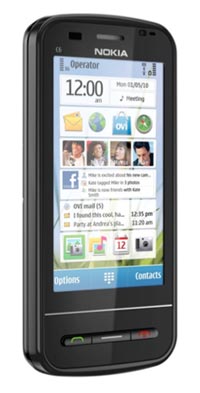 Unlocked Phone
This unlocked cell phone can be used with a GSM network service provider. It does not come with a SIM card, and it requires that you provide a SIM card for usage with your selected service provider.
When paired with a compatible 3G network, you'll enjoy a high-speed connection offering a variety of feature-rich wireless services--from data connectivity to your office to multimedia streaming, and take advantage of simultaneous voice and data services. In areas not served by a 3G network, you'll continue to receive data service via EDGE network (depending on network compatibility).
Note that the downloading of maps, games, music and videos and uploading of images and videos involves transferring large amounts of data. Your service provider may charge for the data transmission, and the availability of particular services and features may vary by carrier.
Key Features
Fast 3G connectivity with broadband-like speeds via 850/1900/2100 MHz UMTS/HSDPA.
Integrated assisted GPS (A-GPS) receiver with free Ovi Maps enables you to find your route quickly and easily, whether walking or driving. Use the Walk pedestrian navigation to find your way, or the voice-guided Drive navigation to find the best route.
3.2-inch touchscreen with responsive, tactile feedback (640 x 360 pixels, 16.7 million colors). Includes orientation and proximity sensors, ambient light detector, and brightness control.
Personalize your home screen with widgets that bring live updates from your favorite social networks (includes pre-loaded Facebook and MySpace apps)
Slide-out full QWERTY keyboard
5-megapixel camera with 4x digital zoom, LED flash, automatic location tagging (Geotagging), auto-focus lens
Video capture capabilities with recording up to 640 x 480 pixels and up to 30 fps (secondary camera for video calls on compatible networks; QVGA).
Digital audio/video player with compatibility for MP3, WMA, and AAC/eAAC+ formats
FM radio (requires headset to be attached)
Wi-Fi networking (802.11b/g) for accessing home and corporate networks as well as hotspots while on the go.
Bluetooth connectivity (version 2.0) includes profiles for communication headset, hands-free car kits, and the A2DP Bluetooth profile--enabling you to wirelessly stream your music to a pair of compatible Bluetooth stereo headphones or speaker dock.
Memory expansion via microSD card slot with support for optional cards up to 16 GB.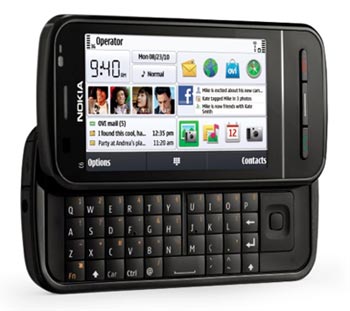 SMS and MMS messaging with common inbox
Instant messaging via AIM, Yahoo! Messenger, MSN Live, and Google Talk
Supports e-mail accounts from more than a thousand ISPs (SMTP, IMAP4, POP3), as well as Gmail, Yahoo! mail and Hotmail. People who use Microsoft Exchange at work can access their e-mail using the Mail for Exchange mobile e-mail client, which comes pre-loaded (an Exchange e-mail account is required and your Exchange Administrator must have enabled your account for synchronization).
Full HTML Web browser with support for JavaScript Flash Lite 3.1 and Flash video
Watch YouTube videos right in the browser--no need to launch a separate player
RSS reader feeds
Airplane mode allows you to listen to music while the cellular connectivity is turned off
Vital Statistics
The Nokia C6 weighs 5.3 ounces and measures 4.46 x 2.09 x 0.66 inches. It runs on the 850/900/1800/1900 MHz GSM/GPRS/EDGE frequencies, plus 850/1900/2100 3G networks (HSDPA).
What's in the Box
{{Contents}}